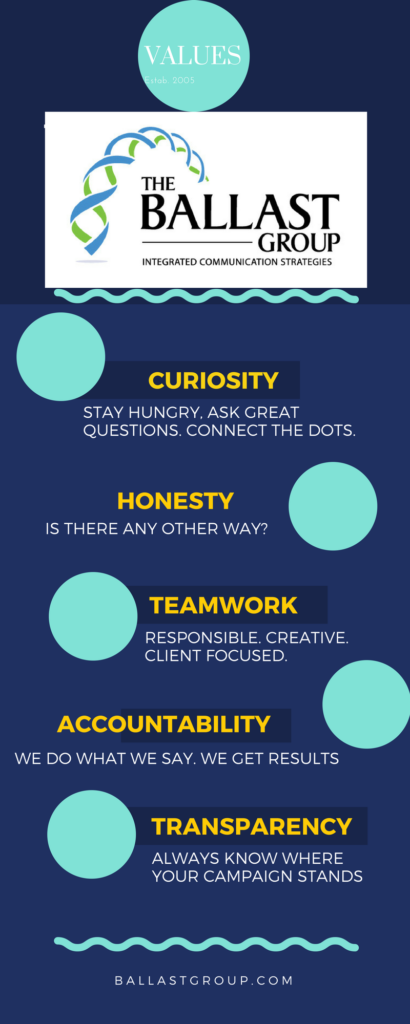 Kellee M. Johnson, M.A.




Principal




The Ballast Group, LLC

In 2005 Kellee Johnson founded The Ballast Group, an integrated communications strategy firm, after serving as director of corporate marketing for Abbott Laboratories, where she managed 25 global teams and after she spent five years managing corporate communications for Tropicana, a multi-billion dollar division of PepsiCo.

Johnson builds and refines domestic brands of global companies and provides lead generation and growth strategies for start-up companies. She and her team build better relationships with stakeholders through story telling that leverages qualified third parties in multiple integrated communication channels.

Focused on all aspects of marketing consumer products, healthcare and high-tech services, Johnson has helped companies such as Hyatt, Kaiser Permanente, Stericycle, Safeway, TARGET, Cisco and Ultimate Software think differently about their relationships. See case studies.

Johnson positions companies as thought leaders through media relations including US News & World Report, the Associated Press, Wall Street Journal, CNN HeadlineNews, The Boston Globe, Houston Chronicle, Denver Business Journal, Chicago Tribune, Crain's Chicago and more. She has been a mentor to several young women for 15 years. She facilitates and moderates executive forums, expert panels, seminars for entrepreneurs and industry roundtable discussions.

Chicago-based LISA App, the first open marketplace for on-demand beauty that launched in January 2016, appointed Johnson as its Chief Marketing Officer and a partner.

With an emphasis on medicine and law, Johnson holds a M.A. in mass communications from the University of South Florida, and a B.A. in English from Rollins College. She serves as an adjunct professor at DePaul University's College of Communication and regularly recruits and places students as interns.

Johnson is currently president of the Rollins College Alumni Board after serving on the Rollins Admission Network. She supplemented her graduate work at The Nelson Poynter Institute for Media Studies and The Niagara Institute. She is a graduate of Dale Carnegie and Leadership Manatee.

A member of the citizen diplomacy initiative and PR Committee for WorldChicago, Johnson has traveled to 27 countries, including Vietnam which resulted in a special to Tribune Newspapers after a trip taken with a mentee from the Colorado I Have a Dream Foundation where she served three years on the board. She has spent time as an instructor for 3rd Coast Cruising, raced the Chicago-to-Mackinac Island regatta twice, and dreams of sailing obscure parts of the world. She lives in Chicago's Lincoln Park neighborhood with her labradoodle, Juni.

Contact: kjohnson@ballastgroup.com, 312-751-3959 or @KelleeJohnson.


Jeannine Benoit Adams


Manager, Digital Marketing

Jeannine Benoit Adams is a strategic marketing and communications consultant with a focus on content marketing strategy and execution, public relations and social media. While starting in restaurant public relations more than a decade ago, Jeannine has since worked with B2B and B2C Fortune 500 companies as well as start up organizations. Her industry experience spans a variety of sectors including manufacturing, retail and fashion, building and construction, food, technology, agriculture and pharma. Most recently, Jeannine was the Director of Content Marketing and Planning at Gyro Agency, creating meaningful and compelling content approaches for her clients.Prior to her time at Gyro, Jeannine spent several years working at major consumer marketing and communications firms in Chicago including GolinHarris, Edelman and Cramer-Krasselt – gaining experience in brand development and positioning, media relations and content strategy.

In addition to her marketing and communication experience, Jeannine was also an on-air correspondent for NBC 5 Chicago as a lifestyle and fashion expert. This experience allowed Jeannine to better understand how to work with editorial media, craft stories that earn coverage for clients and create compelling content to engage with a variety of audiences.

Jeannine earned a M.A. in integrated marketing communications from DePaul University and a B.A. in strategic business communications & journalism from Ohio State University.


Becca Berkenstadt


Digital Marketing Strategist

Becca has more than 10 years experience working with companies in Australia, New Zealand, Asia, and the United States. She believes in the importance of results-driven, globally-minded digital marketing. Becca develops an integrated marketing approach for clients in a myriad of industries:

Healthcare
Technology
Professional services
Real estate
Travel
Entertainment
Food service/manufacturing
Artists/musicians/authors
Nonprofit
Fashion/retail
Sports

Becca graduated with honors from DePaul University with a degree in marketing and management with a minor in Spanish. She is a Google Certified AdWords Professional and has certificates in mobile marketing from Sydney University's Continuing Education Program and pay-per-click (PPC) marketing, online marketing, and website design from the DePaul University Continuing Education Program.


Erin Blecha-Ward
Vice President, Marketing Strategy, Social Engagement and Analytics
With over 10 years' experience in the healthcare, sports and entertainment industries, Erin's roles have included heading up marketing, PR, community relations and fan experience teams in college, pro and agency settings. Erin has extensive experience managing marketing, communications and event strategy for global, national and regional brands focused on comprehensive program development for community and sponsor partnerships, customized culture and service training, research and analytics and traditional, digital and social media marketing campaigns.

Erin's experience leading events and fan experience teams for professional sports franchises as well as heading up Fan Experience & Community Relations for Stanford University, includes overseeing teams responsible for marketing of premier sports brands and executing over 250 activations annually ranging from high-touch VIP experiences to large productions for 55,000+ guests.

With expertise in research, psychology and communication, she uses data and analytics as an integral piece of all she does. Erin has been published in several research-based academic publications focused on media depictions of athletes and the effects of sociocultural stereotyping which utilize various data capture methodologies, empirical research measures and analysis tools. Erin utilizes these skills to develop and evaluate best-practices for campaigns and events. She built an automated tracking tool that aggregates data streams to provide instantaneous feedback on fan enjoyment, experience and event success which was adopted by collegiate and professional sports teams to assess their game day experiences, the first tool of its kind in the industry.

A Disney Institute graduate, Erin has been instrumental in developing and integrating the culture and service model, SMILE, a customized, comprehensive adaptation of the Disney Elevate model which has been rolled out to over 1,000 full and part-time employees across professional sports franchises, redefining their service standards and company fabric.  Previously a communication and public speaking instructor, she has an extensive background in leading speaker training and presenting to large audiences.

Erin is an avid sports fan, fitness enthusiast and adventurer. She enjoys traveling, hiking, exploring the outdoors and spending time with her husband Andy and their dog.
LaShonde Brown
Finance Manager

LaShonde has a proven track record in corporate and agency bookkeeping and accounting. She received her Bachelor of Science degree in Biology from the University of Houston and a MBA from the University of Phoenix.  She is a QuickBooks ProAdvisor and holds a certificate in accounting. LaShonde helps analyze cost controls and provides timely financial information that supports corporate goals and objectives.
Saujayna Gumidyala, M.A.
Senior Associate
Saujanya ("Sau") Gumidyala specializes in PR research for building brand awareness and strategy. Her efforts are focused on developing foundations for PR campaigns through extensive primary and secondary research initiatives. Saujanya has worked in diverse industries including healthcare administration, education, retail and luxury goods and financial institutional marketing.

Saujanya earned a M.A. in public relations and advertising from DePaul University and a B.A. in history with a focus on Modern European and United States from University of Illinois at Urbana-Champaign. During her time at DePaul, she was a finalist for the Ketchum Excellence in Public Relations Research Award as well as a recipient of the DePaul University Public Relations and Advertising Department Merit Scholarship. She is a member of the League of Chicago Theatres Young Professionals' Circle and volunteers at many local arts events.

In her spare time, she enjoys cooking, dining in the fabulous Chicago restaurant scene, talking fashion and taking in as much local theatre and comedy as she can handle.
Tessa Jackman
Digital Marketing Manager, Paid Search
Tessa is an eCommerce and digital marketing consultant with over 10 years experience. She specializes in developing cross-channel marketing strategies that leverage customer insights, channel execution, program audits to maximize return, analytics, audience strategy, programmatic vendor selection and onboarding.

Tessa has worked across B2B and B2C industries of all different sizes from Fortune 100 to startup companies in the technology, eCommerce, automotive, financial, industrial supply and retail.

Prior to consulting, Tessa developed integrated cross channel marketing strategies as an Integrated Marketing Strategy Manager and led the paid search team at Grainger. Prior to that she held positions in client services at Adobe as well as digital marketing agencies in Chicago including iProspect, Performics and Yesmail.

Tessa graduated from Indiana University in Bloomington with a B.A. degree in journalism. She has spoken at industry events including Adobe Summit and held positions on the Adobe Client Advisory Board for their Adobe Media Optimizer product.

Darrel Kachan
Director, Editorial

Darrel has 25+ years experience as a writer and communications strategist who has worked with the most prestigious global public relations firms as well as boutique entrepreneurial agencies specializing in healthcare. He turns complex information into clear, elegant content that brings key points into sharp focus and connects with all kinds of audiences. Darrel has broad and deep experience in healthcare representing clients that include:

Hospitals (American Hospital Association, University HealthSystem Consortium, University of Utah Hospital)
Pharmaceutical industry (Astellas, Roche, McKesson, Novartis)
Payers (Blue Cross Blue Shield of Michigan, Assurant Health)
University healthcare research centers (CARMA Center at University of Utah)
Physicians and other clinicians (Midwest Orthopedics)
Patient service companies (CarePages)
Clinical Research Organizations (Quintiles)
Healthcare IT companies (McKesson Provider Technologies, M*Modal, PerfectServe)
Health wellness companies (Healthways)
Group purchasing organizations (Premier)
Medical device manufacturers (Kimberly-Clark Health)
Medical associations (College of American Pathologists, AAOMS)
Distributors (Cardinal Health)

Darrel has experience in all content formats, including annual reports, brochures, white papers, direct marketing campaigns, ads, executive speeches, case studies, opinion columns, blogs, web site content, and medical and technical writing. He has written hundreds of by-lined articles for clients in trade and general media outlets. In addition to healthcare, he has written for blue-chip clients in technology (Microsoft, Experian), financial services (GE Commercial Real Estate, CapitalSource), manufacturing (ITW), marketing and media, and professional services. Darrel planned and executed multi-faceted communications and media relations programs including an advocacy program for Kimberly-Clark Health that helped the company boost its sales of surgical gowns and drapes by $50 million in three years.

Darrel graduated with honors from the University of Illinois at Chicago with a B.A. in English.

Patrick Kelly




Digital Experience Strategist

For over 20 years, Patrick has developed digital engagement strategies and built digital tools and content that helped clients succeed in an ever-changing, complex digital world.  Patrick has worked with start-ups to Fortune 100 companies on digital strategy, application design and development, search marketing, content marketing, online advertising and social media.

Patrick has a particular passion for healthcare and has held progressively senior leadership positions at healthcare advertising agencies and marketing firms. Patrick was a partner at Method Engine, a Chicago-based digital agency where he ran the agencies' strategy and account services team. With his broad digital marketing background and specific experience developing interactive marketing strategies for health, Patrick helps client's succeed in a changing environment. Patrick has specific experience in cardiology, oncology, nephrology, home care, information technology, anesthesiology, ambulatory surgery, and orthopedics.

Kelly Meisner Klopp
Manager, Public Affairs
Kelly brings two decades of experience in public affairs and media relations to counsel private and non-profit clients through communication challenges. Kelly has helped a diverse set of clients craft communication strategies to support their organizational goals, providing media relations, issues management and writing services to influence decision makers, mobilize internal and external stakeholders, and build momentum behind an issue or legislation.

Most recently, Kelly managed media relations for two Chicagoland hospitals, Northwestern Lake Forest Hospital and Loyola University Health System, working closely with the hospitals' external affairs and marketing teams to develop and disseminate content promoting the hospitals' primary and secondary service lines, physicians, technology and research programs.

Kelly has led external affairs and provided communications consulting for the state of Illinois' public utility commission, overseeing all public education and media content. Her writing experience includes authoring the first-ever Chicago Public Schools Arts Education Plan, designed to improve, expand and coordinate arts education across CPS. She also authored a report on the status of Illinois' waterway shipping system for the Illinois Chamber of Commerce's Infrastructure Council.

Kelly served as Communications Director for Robert Dold's successful 2010 campaign for Illinois' 10th Congressional District. Kelly was responsible for the campaign's primary messages and implementation of the overall earned media strategy. She managed media relations for the campaign and directed the development of communication materials to voters and supporters.

Prior to the campaign, Kelly was a Partner and Vice President at Res Publica Group, a Chicago-based public affairs agency. Kelly served clients primarily in the highly-regulated health care and gaming industries. Kelly worked closely with clients' government affairs teams to create coordinated legislative or regulatory campaigns that supported the larger business goals of the organization. She managed public hearings before local and state regulatory and governing bodies, writing testimony and creating collateral material as well as providing media relations support.

Kelly began her career in the Dunn Fellowship program in the Office of Illinois Governor Jim Edgar, coordinating events and briefing the Governor for meetings and events with visiting foreign dignitaries and local ethnic groups. Kelly's experience includes teaching an American National Politics course at College of Lake County. Kelly holds a bachelors degree and a masters degree in political science and lives with her husband and three children in Chicago's northwest suburbs.

Noeleen McGrath
Director of Executive Coaching, Crisis and Media Training
Noeleen is an award-winning television news journalist for 12 years at the network and local levels. Her years of interviewing executives convinced her to develop programs that emphasized messaging, on-camera, live and crisis communication skills. McGrath works primarily with executives in Fortune 500 and Fortune 1000 companies. Her team's success stems from the ability to coach clients through worst-case scenarios, confrontational reporters and "ambush" interviews. Noeleen is the winner of the National Edward R. Murrow award and has received awards from the Society of Professional Journalists, including ones for continuing coverage for the Columbine High School shootings and Breaking News Reporting, as well as various Associated Press awards for breaking news, sports coverage and feature stories.

McGrath started her television news career at CNN's Chicago bureau when she was a junior in college. After three years of working behind the camera as a producer at CNN, Noeleen moved in front of the camera as a local news anchor and reporter. Now her main focus is executive media training, specifically crisis communication. She has prepped executives and athletes from Nike on topics including labor issues to Michael Vick to steroid use among athletes. She has also worked with Chicago Public Schools, executives and managers in the pharmaceutical industry, politicians under fire and attorneys involved in high profile cases.In addition, she has done extensive work on national level exercises for Homeland Security including top DC officials to local first responders during drills that test our country's preparedness during a terrorist attack. She has worked with the first Hispanic State's Attorney in the history of Cook County to help get her elected after being a longshot.

When Noeleen isn't working, you can find her on the beach, playing 2s volleyball or walking her rescue dog, Molly. For more than 20 years, Laura has been a corporate controller for several privately held companies where she managed administration for small-to-medium-sized businesses. Her expertise lies in financial statement preparation, software implementation, accounting department management and human resource administration. Laura holds a B.S. in accounting from DePaul University and a M.B.A. from Keller Graduate School of Management.

Stefanie Santos McLeese
Strategic Communications Manager
For almost fifteen years, Stefanie Santos McLeese has helped her clients meet their organization objectives through strategic public relations and communications solutions. One of her greatest strengths is helping clients develop culturally relevant campaigns for the Latino market. With her experience managing multi-cultural initiatives for the National Office of Mothers Against Drunk Driving (MADD) and having launched a bilingual, national multi-media campaign for the national non-profit (and managing its $1 million budget), McLeese knows reaching multi-cultural audiences goes far beyond a simple translation. During her time at MADD, she also served as the organization president's speechwriter where she wrote congressional testimony and prepared him for local, regional and national media appearances. McLeese made the shift from non-profit to automotive where she co-managed a trip of U.S. Hispanic media to the Nissan North America manufacturing plant in Aguascalientes, Mexico resulting in 40 million impressions. Throughout her tenure at Nissan, McLeese was responsible for helping maintain media relations with Spanish-language media throughout the U.S. She also managed community relations in the South Central U.S. Region, including its $100K budget, making strategic awards to deserving non-profits. Additionally, McLeese was responsible for Internal Communication and Employee Engagement for the 1,000+ employees at Nissan Motor Acceptance Corporation.

McLeese has helped global clients like Carus Corporation, Celanese Corporation, Encana Oil and Gas, USA, Hyundai Capital America and Tim Hortons develop PR/Communications campaigns that deliver results business leaders demand. While at Encana, McLeese developed and executed an audit-passing, strategic communications plan for the organization's Environmental Management System, ultimately earning ISO 14001 certification and maintaining a license to operate. She transformed the typical employee Town Hall into a Hermes Award-winning event which 90% of staff cited as engaging, informative and a valuable, business-focused event. She was specifically selected as the corporate communications global advisor to partner with the IT group and launch a company-wide, real-time, knowledge exchange forum resulting in technical teams across North America connecting and solving challenges faster for improved efficiencies. While at Southern Methodist University, McLeese managed the production of two collegiate media guides and served as the media point person for four collegiate sports, including game-day needs.

A passion of McLeese is in using her expertise to help underserved communities. McLeese is most proud of her work with Easter Seals, United Way and the Roman Catholic Diocese of Dallas. McLeese played an integral role for the diocese by developing and executing a strategic communications plan to support Bishop Kevin Farrell's efforts to overhaul the Catholic schools in the Dallas diocese. In 2014, she also authored the strategic plan for launching the diocese's $125 million capital campaign, which – to date – is already at 87% of its fundraising goal.

McLeese earned her Bachelor of Science in Public Relations and Journalism from Tarleton State University in Stephenville, Texas. She holds several professional organization memberships including International Association of Business Communicators (IABC), Public Relations Society of America (PRSA) and is a founding member of Young Catholic Professionals (YCP).

Max Ning
Graphic Designer
Max Ning is a graphic designer with more than 10 years of design experience. He specializes in corporate identity, including creating logos and advertisements and designing websites as part of integrated marketing strategies that enhance brands.

Max's design experience has been applied to a wide range of industries including aerospace, consumer products, hospitality and interior design. Prior to joining the Ballast Group, Max worked as a marketing graphic designer for PECO Inc. and Athena Design Group where he completed a wide range of projects while optimizing design and production procedures and standards.

Max earned a M.A. degree in business administration from City University of Cacau (China) and a B.S. degree in marine biology from Ocean University of China. In his spare time, he enjoys spending time with his wife and playing volleyball. He has served as a volunteer at the Chinese Mutual Aid Association in Chicago.

Richard Ringer




VP, Media Strategist and Crisis Communications

With more than 38 years in the media business, Ringer is a former award-winning newspaper reporter who successfully helped clients on proactive and defensive media tactics and others needing crisis communications. He served as communications director and campaign advisor to winning candidates in local, congressional and statewide elections. Ringer also executed traditional and new media and thought leadership programs that contributed to the growth, investor funding and long-term business goals of B2B companies. He helps solve complex communications problems for people and organizations in business sectors from energy to financial services to politics and public affairs. Ringer's capabilities include crisis communications, boardroom and executive counsel, reputation management, thought leadership, traditional and social media programs for clients including GE Real Estate, the world's largest commercial real estate landlord.

Created and executed U.S. media strategy to help maneuver GE Real Estate through the steep commercial real estate downturn that began in 2007
High media profile thought leadership campaign, which included bylined articles in trade publications, company and personal profiles in trade publications, and coverage in mainstream broadcast and print publications resulted in more than 275 media hits for each of several years
Leveraged media coverage to obtain speaking opportunities at industry conferences, including Urban Land Institute
Managed social media, including blogs and creation of online communities, to reach stakeholders including investors, analysts, customers, media and employees
Wrote the media relations component of a comprehensive, reality-based crisis communications scenario and five-day implementation exercises for a Fortune 500 company
Agency helped develop a crisis communications program, which won a Gold Tower Award, to handle day-to-day employee contacts and developed talking points for the company which lost several hundred employees in the September 11, 2001, terrorism attacks in NYC
For the State of Illinois, developed and executed a media campaigns that turned a low profile, defensive media posture for Chicago's third airport project into a proactive media and grassroots-support campaign; initiative resulted in additional state funding, and support from more than 13 municipalities and elected public officials in three counties

Political Campaigns – Communications Director

Michele Smith for Alderman, City of Chicago (February 2007 to June 2007) and Dan Seals For Congress, Illinois 10th District (February 2006 to December 2006)
Brought on board both campaigns to resurrect, elevate and direct external, internal communications, press relations and issue manage/opposition research for first-time candidates seeking election to public office
Expanded use of social media tools (YouTube, Facebook, Flickr, Alltop.com, Technorati, RSS feeds and creating a linking strategy to increase SEO results) to reach and engage various stakeholders
Elevated Seals' campaign to the national level, with 435 other campaigns competing for media exposure, by securing an interview on "Hardball" on MSNBC that helped raise more than $2.1 million in campaign contributions
Directed paid and volunteer staffs of six to 15; smoothed lines of communication between candidates and young campaign staffs

Other Political Campaigns/ Deputy Communications Director

Political/media campaigns created for 10 candidates seeking election to statewide (Illinois) and city (Chicago) offices led to eight candidates winning elections

Newspaper Reporting

Award-winning financial and staff reporter for the New York Times, Chicago Tribune, Milwaukee Journal and others

Education

M.A. Journalism, Marquette University, Milwaukee, Wis., 1977
B. A. Sociology, minor Economics, University of Steubenville (Ohio), 1975

Rebecca Somers


Associate

Rebecca specializes in research, earned, owned and social media execution with an emphasis on project management and strategy. She has experience in diverse industries including healthcare, hospitality, nonprofit and marketing.

Rebecca graduated from DePaul University with a degree in public relations and advertising. While earning her degree she interned at Margie Korshak, Inc. where she gained management skills and was promoted twice to oversee eight of the agency's interns. She worked on a wide variety of client projects and has assisted in the execution of numerous earned and social media initiatives.

Rebecca's attention to the types of media her clients need starts with using tools including Cision, Quantcast and Meltwater to build comprehensive lists and writing releases and blogs to generate brand awareness and media coverage.

Rebecca was a member of DePaul's PRSSA chapter and participated in the school's notable DePaul Way trip in New York City.

In her spare time, she enjoys running, trying different types of dance, spending time with her family and exploring the city's amazing restaurant scene.

Steven Stern
Digital Experience Strategist
Steve is an Information Technology management professional with hands-on technical skills and a record as an effective manager who builds cohesive and effective team environments. Steve is a content management expert specializing in WordPress. Sites range in size from a 6,000 page intranet to a 5-page "brochure" with a focus on ease of use for readers and contributors. He has expertise in Linux and MacOS with a wide variety of software and systems, including web portals, CRM, services and feeds, social networks, blogging platforms, and desktop systems. As a member of several senior management teams, Steve has a strong background in developing and implementing strategic plans and measures of performance. His training as a research scientist brings a highly organized methodology that meshes well with the ability to find creative opportunities and solutions. His current projects include evangelizing blogging, social media, and branding strategies for small businesses and entrepreneurs. Steve holds a Ph.D. from Northwestern University in experimental psychology and graduated from Grinnell College with a B.A. with majors in mathematics and psychology. He has completed executive Education courses at the University of Chicago Booth School of Business in negotiation and strategy and accounting for managers.
Katherine Van Vlack
Director, Strategic Communications
Kate is a seasoned health communications professional with an earnest commitment to craft strategies that compel action and improve lives. She has more than 13 years experience at global communication and marketing consulting firms where she has worked with high profile healthcare companies, including pharmaceutical and medical device manufacturers, hospitals, and healthcare providers.

She is adept at identifying and assessing the true business needs of clients and crafting thoughtful integrated marketing plans to address challenges and opportunities. Kate can develop effective messaging to educate and inform audiences as well as enhance brand visibility and company reputation on national and international stages.

Kate has worked with industry-leading organizations, such as GlaxoSmithKline, Bristol-Myers Squibb, Hospira, The University of Kansas Hospital, Pfizer, Wyeth Pharmaceuticals, University HealthSystem Consortium, Press Ganey, and Central DuPage Hospital. Kate also has contributed to public health initiatives promoting consumer and physician education and disease awareness for MRSA, HIV, cancer prevention, and post-menopausal health.

Her wellness brand marketing background spans all phases of a product's life cycle—from Phase I clinical trials to looming patent expirations— as well as within multiple therapeutic areas such as neurosciences (i.e., Alzheimer's Disease, sleep and epilepsy), virology, dermatology, women's health, and fungal infections.

Kate holds a Bachelor of Arts degree in Speech Communication from Miami University in Oxford Ohio. She also holds a minor in Marketing with a focus in International Business. She has a personal passion for improved access to education and is activity involved within the community. She serves on the boards of Chicago HOPE (chicagohope.org), The Alliance for Early Childhood (theallianceforec.org), Garden Guild of Winnetka (gardenguild.org), and A Joyful Noise Preschool. She also is co-chair of the 2017 Kawasaki Disease Research Fundraiser for Ann & Robert H. Lurie Children's Hospital of Chicago.

Jed Weiner
Content Strategist
Jed Weiner's 30+ years of experience in healthcare public relations includes successful development and management of campaigns in the pharmaceutical, biotechnology, medical device, diagnostic, provider, managed care and nutritional industries. Jed enjoys contributing to his clients' successes by providing expertise derived from a unique perspective of having worked at corporations, agencies and news media outlets.

Since becoming an independent healthcare storyteller in 2001, Jed's assignments have included all facets of integrated communication strategies including: corporate and product positioning, marketing communications (digital and print), media relations, crisis preparedness and response, patient education, web site development, video production, advocacy group relations and employee communications.

Throughout his career, Jed has capitalized on and further honed the interview skills he developed during his 11-year career in television news (writer/producer, reporter, talk show host), a broadcast news reporter and talk-show host. Startups, hospitals, health systems, biopharma and med-tech clients appreciate his expert ability to engage with healthcare leaders, patients, physicians and organizations' senior leaders, turning personal anecdotes into deliverables that motivate action, and capturing the essence of medical and scientific breakthroughs in terms that are comfortable for all audiences.

Previously, Jed served as the leader of the Chicago healthcare practices of global PR agencies, including Weber Shandwick and GCI Healthcare. His teams developed and executed the full spectrum of communications assignments, from clinical trial recruitment, pre-approval market conditioning and product launches to post-approval campaigns, advocacy group relations and corporate positioning initiatives. He began his PR career at Edelman, and then helped create Fleishman-Hillard's Healthcare & Biotechnology practice.

Jed and his wife live in Arlington Heights, Illinois. He graduated from Boston University's College of Communication with a B.S. degree in broadcasting & film.