Behind every great story is a journalist. And behind every great journalist is a public relations professional offering ideas and sources for those stories.
With increasing access to stories breaking around the globe, journalists no longer have time to develop a story the way they used to. When a PR professional does his or her job well, journalists are brought good stories to consider. Once these stories are told, PR professionals and journalists are launched into relationships built on mutual trust. According to The Ballast Group founder, Kellee Johnson, these symbiotic relationships are the key to successful public relations campaigns and to fair and accurate stories.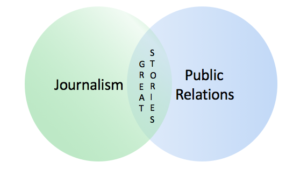 The Importance of Building Relationships with Journalists
How does a PR pro ensure these important relationships last? How is trust and rapport built and maintained between the two parties?
For Kellee, the answer is simple: a great story told with honesty and transparency. She knows journalists have tough jobs to tell stories daily that are fair and accurate. She shares with PR students that J-school teaches journalists to find both sides to every story and to keep it balanced. That often means a 360-degree view of a topic. And despite focusing on or mentioning a client, competitors are likely to be a part of the piece.
"A PR person's greatest asset is his or her relationship with journalists, editors and producers. These relationships are delicately balanced with continued trust, fresh ideas and relevant sources that bring stories to life."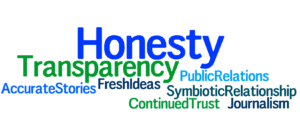 To better understand the nuances of working with journalists, Kellee shared an example representing a population health care coordination portal, formerly known as Medical Home Network, part of the Comer Science & Education Foundation. This public-private partnership consisted of six hospitals on Chicago's South Side. The technology's goal was to bring disparate providers of healthcare together (ERs, PCPs and Federally Qualified Health Clinics) to better coordinate care for these patients.
Her goal? To coach MHN stakeholders to speak on MHN's behalf as sources for journalists. These stakeholders were trained to speak about the moving targets of health reform. They included: health management consultants, Department of Health & Family Services leaders, providers working at private practices and clinics, hospital CEOs, and informed-consent patients.
To best tell this story Kellee first turned to the "why" journalists would care. She touted the fact that the MHN model was being closely watched by government agencies, politicians and healthcare professionals across the country who were seeking solutions for managing "Safety Net" populations that helped to prevent unnecessary patient readmissions to hospitals.
Respecting Journalist Needs
Believing in quality over quantity, Kellee reached out to a handful of trusted regional healthcare and business journalists. One reporter's interest was peaked, a respected medical writer for the Associated Press, Carla Johnson.
At the same time, a business reporter at the Chicago Tribune, Pete Frost, expressed interest in covering the topic. What would you do next as a PR pro? Kellee had to determine the timing and best way to let Carla know that after spending two weeks working on this story a competitor was publishing a similar piece. Would this risk the reporter relationship to benefit the client? Does she inform Carla about Pete's story, possibly halting Carla's story while protecting their relationship?
Leading with Honesty and Transparency
Aligning honesty and transparency with the facts, Kellee informed Carla that Pete also planned to run a story. She clarified that each had interviewed different patients and guaranteed that the chosen angles were unique. In response, Carla was deeply appreciative and agreed to continue moving forward to publish her story.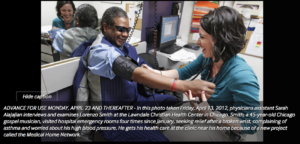 What is the best advice for managing relationships with journalists? If it's breaking news or news announced with a press release, the story is fair game for anyone to cover. When asked, be candid about who else you've shared a select story with. And when not asked, consider doing the same.
For PR pro's to tell client stories to their most important audiences, you must build important relationships with relevant journalists and make your relationships last by leading with honesty and transparency.
These efforts generated national awareness for MHN and gave it tools to pursue additional grant funding, provider expansion, recognition at Federal levels and the Healthcare Advisory Board, and a partnership with the State of Illinois.
For more PR tips and to learn strategies for telling your organization's story to your most important audiences in the channels that matter most, contact @KelleeJohnson or @Ballast_ Group or visit http://ballastgroup.com.