It's that time of year again when the weather warms and the tassels are turned to the left side. As college seniors graduate from private and public institutions across the country, news organizations flood us with headlines of commencement speeches with the "best advice" or "words of wisdom."
Twelve years ago, as Kellee Johnson started The Ballast Group, one commencement speaker's words stood out. Delivered by Steve Jobs at Stanford University's 2005 commencement address they were: "Stay Hungry, Stay Foolish." Those words inspired The Ballast Group team in 2005 and continue today.
To help people declutter the thousands of commencement speech messages and hone in on the most important advice, I have chosen two commencement speeches that best align with The Ballast Group founding principles to inspire graduates to pursue their ambitions and embrace an entrepreneurial spirit. In both Howard Schultz's Arizona State University address and Mark Zuckerberg's Harvard University address, entrepreneurial values and ideals are emphasized and encouraged.
Arizona State University – Howard Schultz, Former CEO Starbucks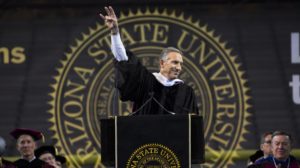 On Monday, May 10, Howard Schultz, the former CEO of Starbucks, delivered a commencement address to the class of 2017. He spoke about his personal journey and hardships, the mentorship of his mother and the importance of having core values. All of these points were important ones to make and added great value and credibility to his speech. The greatest lesson though, one that he did not directly preach, was to connect the dots. This principle, one of the founding principles of The Ballast Group, is what inspired and guided Schultz to found a company with a core value, "to achieve the fragile balance between profit and humanity." By holding on to his roots and upbringing, Schultz was able to create a company that provided employees the type of work he'd always wished his father had.
Harvard University – Mark Zuckerberg, CEO Facebook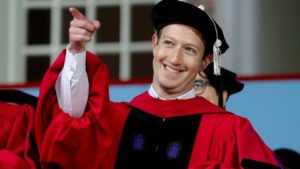 Most people know Mark Zuckerberg, the founder of the social media platform that revolutionized the way the world interacts. It is no surprise that Harvard University chose him to deliver its 2017 commencement address. His speech offered a humorous recap of his Harvard dropout days and highlighted his appreciation for his parents and his wife. With heartfelt tribute, Zuckerberg says, "In our society, we often don't do big things because we're so afraid of making mistakes…But that can't keep us from starting." Taking risk, another integral value to The Ballast Group, is necessary in the world of entrepreneurialism. In order to make dreams a reality people must take risks without fear of appearing foolish.
So how do these speeches connect? What is my advice for turning these words of inspiration into practice? Never forget the story of where you come from. Use your life experiences to connect the dots and turn your passions into motivation and innovation.
Stay hungry and stay foolish by continuing to learn and to take risks. Fuel the entrepreneur in you into a practice that can change the world and inspire others to do the same.
For more PR tips and to learn strategies for telling your organization's story to your most important audiences in the channels that matter most, contact @KelleeJohnson or @Ballast_ Group or visit http://ballastgroup.com.