I got the idea to start an integrated communications firm in 2005, the same year the late Steve Jobs gave a commencement speech at Stanford. It was called: "Stay hungry, stay foolish." I still follow these words today.
'Hunger' to me is staying curious enough every day to define the WHY. 'Staying foolish' to me is not being afraid to take risks that may result in mistakes. I had to work hard once I decided to go out on my own and build a team of experts. These words were my daily inspiration.
Hear more on Entrepreneur.com about how the Ballast Group team applies the 'why' people will care to storytelling methodologies. Thanks to @BizCastHQ for creating the environment for Chicago entrepreneurs to share their stories.
In addition to Jobs' words, a phrase by Eleanor Roosevelt reminds me of keeping focused on the right things when working in teams: "Small minds discuss people. Average minds discuss events. Great minds discuss ideas."  This quote is the foundation for great story formulating ideation sessions.
In this business, you are a curator of constant ideas; ideas that others find valuable; ideas that others emulate; and ideas that others pay for. You can never be complacent. There is always more to read and even more to learn. Be curious. Traveling to 40+ countries and being a news junkie (I am an admitted NPR addict) offers a constant flow of great ideas and different points of view to inspire life-long story telling capabilities.
As entrepreneurs, we can create a life purpose that is filled with freedom and flexibility. With multiple projects and clients, I had to learn the best of time management. Part of that lesson is time to recharge. It's so important. Make your health a priority – take everything in moderation; eat healthy; secure a mentor or coach; and keep up with regular exercise — to help guide you and to sustain long days.
The best business advice I received is that you can't achieve success alone. Surround yourself with people better than yourself and who are team players that appreciate accountability.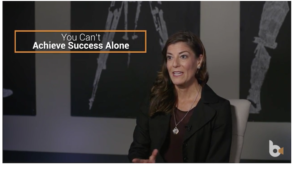 The best ideas start by surrounding yourself with these smart, curious and client-focused colleagues. The Ballast Group is a virtual team of subject matter experts. We help leaders articulate their stories to the audiences that matter — whether investors, customers, employees, partners or others — and in the most important channels.
What's your entrepreneur story? Tell us your secret. Tell us how you had the passion and the guts to jump out on your own and make something happen.