A question that I like to ask CEOs or sponsors at the beginning of any new project is: "How will you define success at the end of this project? If your definition was a news headline, what would it say?"
A former Baxter executive founded a medical education start-up company that taught physicians how to practice a simulated procedure instead of practicing on a real patient.
He answered my question with a commanding: "I want to be on the cover of Fortune magazine as the most feared man in medicine."
Alrighty I thought — a very articulate and focused leader. He continued, "If hospital CEOs know that this type of technology exists to keep patients safe, and they don't learn more and use it, shame on them." This leader was right given, at the time, almost 100,000 patients were dying each year from mostly preventable medical errors.
Defining success before a project begins helps leaders articulate their ideas for branding success in a visual way that helps our team better develop custom and creative paid, earned, shared and owned media campaigns.
Pro tip: It's important to help the CEO define his or her direction and set the tone and call to action for all stories before any engagement starts. Doing so aligns everyone around a similar vision for telling the organization's story. More importantly it addresses the "why" people will care about your story.
A Ballast Group case study discusses the strategy developed and executed for this Denver-based medical technology education company. We started by creating a narrative around patient safety on a national level. This platform became the "why reporters, readers and viewers would care." When a narrative is supported by third party expert sources sharing their experience with the technology (e.g. the physician who performed Larry King's heart procedure was one source), it becomes a winning formula. This formula is part of Ballast Group's inverted pyramid storytelling methodology.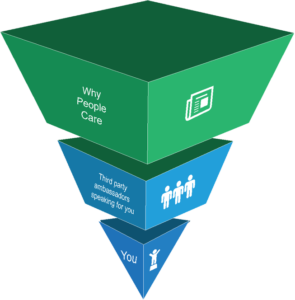 And the results showed. While this CEO did not land on the cover of Fortune, the approach amplified the company's mission and grabbed airtime on CNNHeadline News. It also landed a one-and-a-half page story in U.S. News & World Report with an earned-media value at the time of $200,000 (as an ad-dollar equivalency) and was written by one of the country's best U.S. healthcare reporters and editor of the magazine's "Best Hospitals in America" annual edition.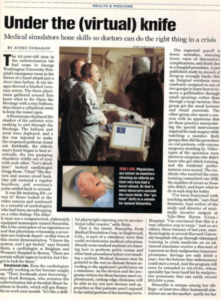 The PR strategy positioned this early stage company as an industry disruptor and led to new business, medical device manufacturer partnerships and financing opportunities.
Before beginning any new campaign, what is your definition of its success? The more clear and specific a leader is about desired results, the more PR firms can help articulate the best ideas into the company's story campaign.
For more tips on how to tell your organization's story to your most important audiences in the channels that matter most, contact @KelleeJohnson or @Ballast_ Group or visit http://ballastgroup.com.