"Stay Hungry, Stay Foolish."
For those of you who know The Ballast Group or our founder, Kellee Johnson, it is likely that you have seen or heard these words — especially around college graduation time.
This quote, from Steve Jobs's 2005 Stanford University commencement address, is the inspiration behind Kellee Johnson's entrepreneurial spirit and the force behind her drive to continue finding best storytelling practices for The Ballast Group everyday.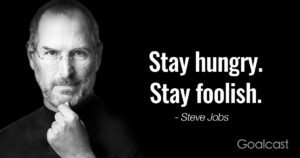 In 2005, Kellee founded The Ballast Group after working for Tropicana, Abbott Labs and several medical technology start-up companies. After more than 15 years, she took a risk and ventured on her own to build a consulting practice dedicated to unique storytelling for brands of all sizes.
Since starting The Ballast Group the team has worked with a wide range of U.S. clients in the healthcare, medical and technology sectors building relationships for clients and secured coverage in major publications that put them on the map. The formula? A constant passion for curiosity, truth telling, connecting the dots, and designing innovative campaign ideas that involve many stakeholders.
For college graduates tossing their caps this month, whether pursuing Corporate America, non-profit organizations or start-up companies, one thing is sure. Those who 'stay hungry and stay foolish' and are not afraid to work hard, can connect the dots and take risks to identify with job growth from start-ups and small companies that fuel the U.S. economy and lead to more creativity and innovation to keep the U.S. competitive in a global market.
In 2016, the Center on Budget and Policy Priorities released a report, including data analysis by economist John Haltiwanger and his colleagues, finding that, on average, start-ups and high-growth firms create about 70 percent of jobs in a given year. Though most start-ups fail, and many of the ones who succeed experience little growth, the ones that do grow offer a disproportionate amount of jobs. In fact, of the start-ups that succeed and grow, 2.4 million jobs are created within the first five years of their operation.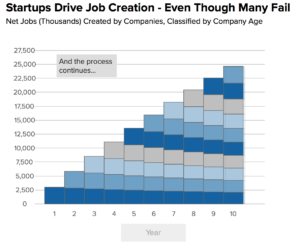 Why does this number matter?
Because it illustrates the idea that entrepreneurship fuels growth. To 'stay hungry and to stay foolish' relates to both the individual and the economy.
Take for example Howard Tullman's Chicago innovation hub, 1871. Since its founding in 2012, 1871 has created more than 7,000 jobs and placed Chicago in a solid spot being recognized for technology start-ups, including those focused on healthcare that are now part of MATTER.
In a world that is constantly advancing with new technology and new practices, entrepreneurship is the catalyst whether in large companies such as Johnson & Johnson that have corporate development departments that continuously evaluate new technologies to take to market, or in a start-up company dedicated to solving a single problem.
Our advice? Find out what type of leader and entrepreneur you want to be. Ask yourself why and how you can make that happen. Make a commitment to staying hungry and foolish. Be agile, look for problems to solve and seek to make necessary change.
For more PR tips and to learn strategies for telling your organization's story to your most important audiences in the channels that matter most, contact @KelleeJohnson or @Ballast_ Group or visit http://ballastgroup.com.