The purpose of public relations has not changed in decades — build interesting and accurate narratives and tell great stories that include stakeholder perceptions.                                                      
What has changed quite significantly in the last two decades is the way stories are told. The number of available channels has increased to make parts of our jobs 24/7 – online news, blogs, and social media. Despite the number of increasing channels, knowing your audiences and where they are online is the first step to creating a dialogue that's valued and shared.
Our job is not complete because the story appears as earned media or as a blog post. It's up to the PR pro's to amplify it – LOUD – to make sure audiences see it – and share it in as many spots possible.
The difference between PR 20 years ago and PR today is the evolution to content marketing. No matter the content, emphasizing the context of the story – the why behind it – is critical. Stories are made more credible by others talking about your brand so you don't have to.
Chicago-based food delivery service, GrubHub, for years has tied its social media management to its customer service team. As the market increasingly turns online to get snarky or make complaints, smart organizations that implement this practice can quell potential issues.
Twitter's Customer Service Playbook, shares tips for engaging with consumers as a brand. "Customers are demanding a more personal experience and 24/7 availability." said the playbook. In 2008, Best Buy launched an experiment: a dedicated customer service team on twitter. That team has now grown into an industry-leading unit that responds to over 150,000 inquiries a year.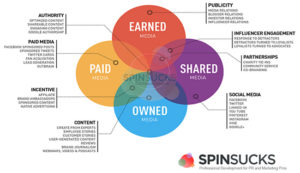 Another significant shift from traditional PR or earned media is the focus on campaigns that integrate all types of media – paid, shared, and owned (image). Earned media in our opinion is still the most credible type because it involves convincing third parties. Amplifying earned media as new content adds value to shared social media channels and owned media (website, blog). A paid media layer helps further boost awareness. Anyone can now publish as a 'citizen journalist' by blogging. Some create brands by doing so. Techcrunch began in 2005 as a blog about dotcom start-ups in Silicon Valley and is now one of the most influential news websites in the technology industry and one of the most powerful blogs in the world.  But formal journalists like New York Magazine's Jesse Singal wrote about citizen journalism as 'a catastrophe.'
As PR and branding leaders we've come a long way from libraries and law firms housing most of the research and information (think Lexis Nexis) we needed to craft great stories. Technology and IoT today changed that. With 3.5 billion Google searches per day, no matter the channels, it is always important to first publish good thought leadership pieces that are fair, balanced and accurate as journalists strive for daily. With accusations of 'alternative facts' and 'fake news,' U.S. editorial directors and facing a new era in journalism (more on this topic in a future post).
According to The Relevance Report, produced by University of Southern California Annenberg School of Communication and Journalism, the pace of change in the communications industry means staying relevant and commanding skills to match a continuously changing field.
Make your story matter. Care about the "why." And carefully choose the influencers who help tell your story.
"Relevance is the proverbial tip of the spear. If we're relevant, we break through the mental spam filters. The filters we've all developed to manage the deluge of messages we are bombarded with every day. If we're irrelevant, then we don't penetrate those spam filters," said Caroline Dettman, Chief Creative and Community Officer for Golin.